Pre-Order White Rose & Peony Natural Soy Wax Candle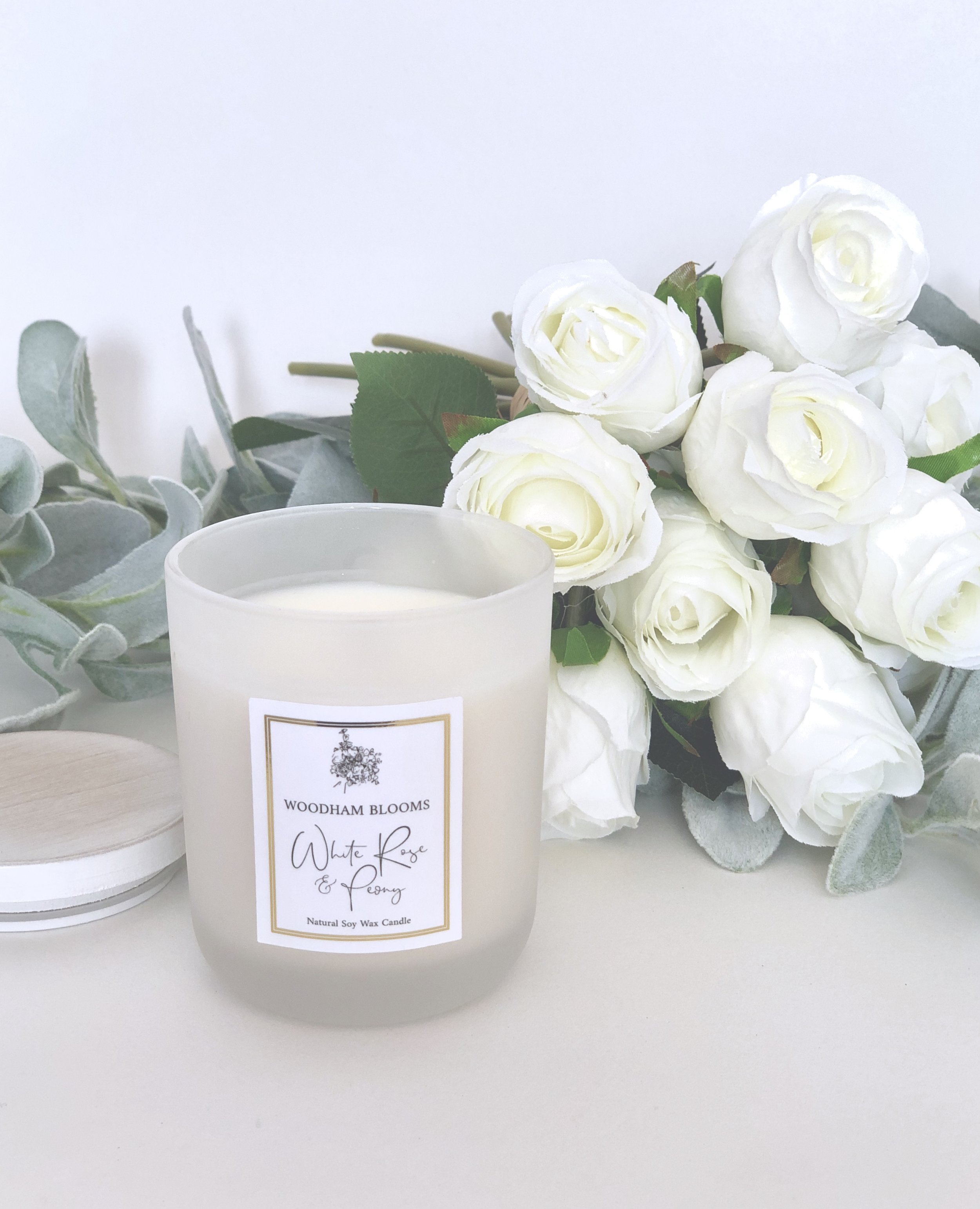 Pre-Order White Rose & Peony Natural Soy Wax Candle
Scent your home or office with the most beautiful fragrances. My Woodham Blooms scented candles are hand-poured in England using natural soy wax blended with essential oils, making these the ideal companion to one of my artificial floral arrangements.
I wanted a soft floral scent that evoked the memory of walking into my childhood home, which my gardener mum always kept filled with beautiful floral arrangements. My White Rose & Peony Soy Candle recreates this with its beautiful powdery sensual floral heart. At its core is White Rose, Peony Petals and Lily intertwined with Bergamot, White Musk and touches of Amber and Cedarwood. Total burn time is approx 35 hours.
Housed in a frosted glass vessel with my signature white washed wood lids. All of my candles come in a luxury box, perfect to gift (and easy to wrap).
Top Notes: Bergamot, Lemon Peel
Middle Notes: White Rose, Peony Petals & Lily
Base Notes: Cedar wood & White Musk
Please contact me for wholesale / trade enquiries of stocking my soy candle range.
THE BENEFIT OF SOY WAX
Soy wax has many environmental and health benefits, here are some of our reasons for choosing soy wax candles:
Soy wax is a vegetable wax made from the oil of soybeans. It is a natural product that's safer for your skin and respiratory system.
Soy is a renewable source unlike paraffin wax which relies in our dwindling supply of crude oil.
Soy wax is a carbon neutral product, meaning you can enjoy your candle knowing it hasn't had a negative impact on the environment.
Soy wax burns on average 40-50% slower than paraffin wax, resulting in long-lasting candles and giving you better value for money.
Soy washes away with warm soapy water making it easy to re-purpose your vessel once the candle has burned down. No soaking with boiling water and chipping away at residual wax.
Soy wax is clean burning and doesn't release toxins, carcinogens or pollutants which means it's less likely to trigger allergies.
Soy wax won't release petrol-carbon soot like you may get from paraffin candles meaning no black marks on your walls! Keeping the wick trimmed short will also ensure that the candle doesn't smoke and that it burns efficiently.
CANDLE SAFETY
The safe and proper use of our candles is a priority to us, we advise you follow the below steps.
Never leave a burning candle unattended
Never burn a candle for longer than 4 hours at a time
Please burn your candles out of reach of children and pets
Always leave at least 10cm between burning candles
Do not burn candles on or near anything that can catch fire (including and especially not too near our artificial flowers!)
Do not place candles in a draught
Trim wick to about 5mm before lighting
Don't burn a candle all the way down. We recommend leaving 5mm of wax in the container
Ideally snuff out the candle rather than blowing out
Keep the wax pool clear and clear of matches and other debris to avoid flaring
You can find safety instructions on the base of all of our candles.